20160803-evidentia-button-on-search
Summary
Show evidentia Button in FI and Searchresult if GTIN is present in XLS
Update migel products from Bauernfeind
Commits
Index
Show evidentia Button in FI and Searchresult if GTIN is present in XLS
Now I must add an Evidentia Button link in the search result. Creating a product_overview_link. Found SLPriceNews as an example on howto create a link with an image. Looks good now: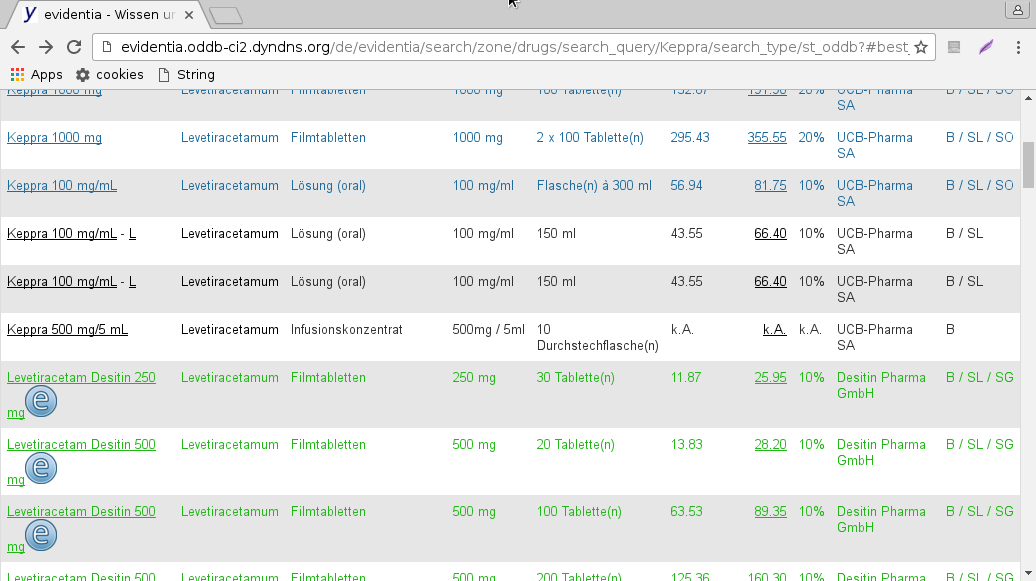 The icon is larger than in the specification and does not occupy the whole height. Leaving this task for the CSS layout.
Adding a spec (watir) test. Tested manually that delete_all_evidentia_search_links works.
Pushed commits:
Update migel products from Bauernfeind
Requirements:
MiGel-Positions not yet in the database must be NOT be created
Use columns "Materialtext deutsch" and "Materialtext französisch". If too long, shorten the texts
We could delete all texts from Bauernfeind and then reimport everything
Pushed some commits to cleanup running spec tests:
Adding a new class Csv_Importer, based on the Importer. Simplyfing the import wherever possible. Creating a spec test using the first 3 lines of the update_migel_bauerfeind.csv file. Test shows failures, which I will fix next week.